Great wine, fascinating history, wonderful wildlife, pristine beaches and breath-taking views – the Fleurieu Peninsula has it all. And you can do it all, even the wineries, with kids. Let us share our tips for more than 25 things to do on the Fleurieu Peninsula with kids.
Like many South Australian families, we spent much of our Summer holidays on the Fleurieu Peninsula and have very fond memories of those Summers. When Peter and I were considering where to get married, those memories made our decision easy. Yes, there is much to see and do on the Fleurieu Peninsula with kids, as Miss M is slowly learning.
Disclosure:
Some of the links below are affiliate links. We may earn a small commission if you use these links to make a purchase. Thank you! Please read our full disclosure for more information.
Where is the Fleurieu Peninsula
First things first, where is the Fleurieu Peninsula?
The Fleurieu Peninsula is the large peninsula located directly south of Adelaide between the Gulf of St Vincent and the Southern Ocean. Basically, if you stretch a line between Aldinga (on the western Gulf side) and Middleton or Goolwa (on the southeastern side) everything south of that line is considered the Fleurieu Peninsula.
There is no hard and fast line, so often any list of things to see and do on the Fleurieu Peninsula with kids or without will include towns located above that line.
There are three main regions of the Peninsula:
The vineyards and hills: McLaren Vale, Langhorne Creek, Currency Creek and Strathalbyn
Southern Fleurieu, including Goolwa, Port Elliot and Victor Harbour and
The western coast: Aldinga, Carrickalinga, Rapid Bay, Second Valley and Cape Jervis.
Who is it named after?
How did a peninsula in Australia end up being named after a Frenchman?
The Fleurieu Peninsula was named after Charles Pierre Claret de Fleurieu. He assisted French explorer Nicolas Baudin, mapping the coast in 1802. While the peninsula was officially discovered by Captain Matthew Flinders, he did not name it. It was thus given the name proposed by Baudin's expedition, in this case, it was named after his hydrographer.
Where to stay
Where you stay will depend on what you want to see. You could do a day trip from Adelaide, but to get the most of your time, we recommend staying at least overnight.
We recommend booking.com for short-term rentals.
Note: In light of COVID-19, booking.com has added additional features on their property pages, including food safety, social distancing, safety features and cleaning.
If you are looking for a longer-term rental, try stayz.com.au.
What to see and do on the Fleurieu Peninsula with kids
For ease, we'll look at what to do and see in each of these areas of the Fleurieu Peninsula in turn.
The vineyards and the hills
Australia is known throughout the world for its wine and some of the best wine regions are found in South Australia, including on the Fleurieu Peninsula. If you are visiting South Australia, you need to try some of the wine. Having kids in tow need not be a hindrance.
We'll have a separate post on this issue soon, but Australian wineries have gotten really good at being family-friendly. There are a number of wineries on the Fleurieu Peninsula that are known for their kid distractions.
McLaren Vale Wineries
In the McLaren Vale, we recommend Woodstock Wines, which has a great playground area and lawn for kids to play. Friends introduced us to it when we were last in Australia. It even has a mini wildlife sanctuary with kangaroos and wallabies. Feeding time is 11.30 a.m.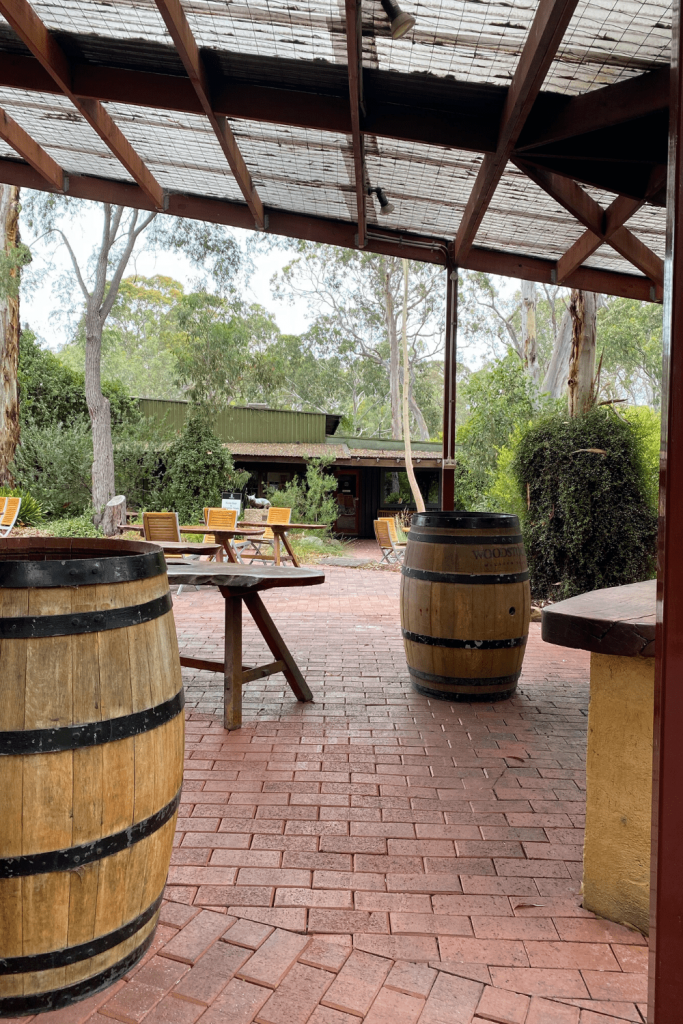 We also like Maxwell Wines, which has a great maze to lose your kids in. Angove Winemakers has books and toys for kids, a great kids menu and a large grassed area for kids to run around on. Check out their chocolate and cheese pairings.
Lloyd Brothers Wine & Olive Company has a similar setup, with picnic rugs and bean bags as well. It also has wetlands which are great for a walk. Another good treat is Fox Creek, which has a free children's treasure hunt.
If you want a little more exercise, grab a bike and walk or ride the Shiraz Trail from McLaren Vale to Willunga return). It's a good distance (14 km return), mostly flat, making it an easy ride, even with kids. You can hire bikes at the McLaren Vale Info Centre.
Please note: Helmets are compulsory for all bike riders in South Australia. Make sure you ask inside for them.
Langhorne Creek Wineries
First planted in 1850, Langhorne Creek has some of the oldest vineyards in Australia.
In Langhorne Creek, we recommend Bremerton Wines. The wines are great, as are the platters, and they have a play corner for kids. If you are looking to eat, you might have to book though.
The Winehouse has a similar set-up, with a large toy box for kids. It showcases 5 wine labels, as well as Langhorne Creek's first craft beer label, Meechi Brewing. The food was delicious, too.
Another great winery for kids is Kimbolton Wines. They have a grassed area with a giant connect four game for kids. The best bit, however, is their kid's flight. Available during school holidays, the kid's flight pairs different cordials in plastic wine glasses with different cheeses, so your kids can feel like they are doing the tasting too. It also comes a placemat to colour in and pencils.
Strathalbyn
Another town worth visiting on the Fleurieu Peninsula is Strathalbyn. It's a cute little town with lots of older buildings – old by Australian standards anyway. Strathalbyn is quite close to where my Dad lives, so we visit regularly. My Mum even worked in Strathalbyn for many years.
It is known for its many antique shops (on High Street), which Miss M views as curiosity shops. Still, it is a good way to let Miss M discover some things that we no longer use.
Also on High Street is The Pastel Teacup, a gorgeous little shop that is the perfect place or afternoon tea. Unfortunately, it was not open when we were last in Australia because Miss M was dying to check it out. Doesn't it just look darling?
On the second Sunday in November, the Great South Australian Duck Race is held in the Soldiers Memorial Park each year. Two thousand five hundred rubber ducks float down the Bremer River, with cash prizes for the fastest three. There are stalls and games in addition to the big race.
One of Miss M's favourite playgrounds is also in Strathalbyn – the Graham Forrest Reserve Nature Playground on Burkett Drive. It has a dinosaur dig pit…
Mount Compass
Recently, Mount Compass has established itself as one of the places to go on the Fleurieu Peninsula for fresh, local produce.
Take the Produce and Tourist Trail for fresh cheese, cherries, strawberries, blueberries and art. Further afield you will find pheasants and quail, marron, venison or trout. You can pick up a copy of the brochure at the Tourist Information in Strathalbyn or Goolwa.
Southern Fleurieu
The southern Fleurieu Peninsula – from Victor Harbour to Goolwa – is my favourite part. It is where we spent most time growing up and it's also where we got married. Miss M has enjoyed seeing and doing some of our favourite things in the area, especially on our recent trip to Australia.
Following the coast from east to west:
Goolwa
Goolwa means "elbow" in Ngarrindjeri, the local Aboriginal language.
Historically, Goolwa was very important. It is the final port on the Murray River – Australia's largest river – and is close to the Murray Mouth. Goods would be unloaded in Goolwa and transferred to the railway before being taken by train via Australia's oldest railway to Port Elliot, where the goods were loaded on a ship for sea.
Take a one hour cruise on the P.S. Oscar W., a 100-year-old paddle steamer, and relive the routes the riverboats used to take. Tours start from the Goolwa wharf most Sundays. Book online.
One of our favourite things to do is to take the Cockle Train from Goolwa to Victor Harbour along the original railway track. Despite living in Germany, a country known for its trains, this was the first train that Miss M travelled on and one of the last day trips my Mum managed.
Cockles are molluscs that you can search for on the beaches in the area. In early days, locals used to take the horse-drawn train to Goolwa to collect cockles from the beaches near the Murray Mouth. Today, you can still collect cockles or pipis from the beaches in the area when the tides change.
Weather permitting, a steam engine pulls the train as it travels along the coastal cliffs, giving passengers views of some of the most picturesque coastal scenery on the Fleurieu Peninsula and the Southern Ocean. You can book tickets at any of the stations along the route or online. Children under four travel free.
While you are at the wharf, check out the Steam Exchange Brewery and Fleurieu Distillery. They also do great coffees, if it's too early for alcohol.
If you are feeling peckish, we recommend the Goolwa Bakery, a family-owned bakery operating for more than 100 years. We like their pies, kitchener buns and vanilla slices.
Miss M is a fan of the playground at Bristow Smith Reserve and its wooden boat and water play area.
Goolwa Beach is also one that we have frequented for many years. It generally has moderate swell, which is great for any aspiring surfers. Our nieces and nephews are aged seven to twelve at the moment and they love Goolwa Beach. Please remember to swim between the flags!
Goolwa is also the gateway to the Coorong National Park. This gorgeous, fascinating and unique stretch lagoon is separated from the Southern Ocean just by a stretch of sand dunes. If you are planning a trip to the Coorong with kids, make sure you get them to watch Storm Boy.
Middleton
Middleton is where the caravan park is, which we stayed in almost every Summer as kids. The park is still there and the location is still fantastic – just a short walk over the sand dunes to the beach.
Though not as extreme as Torquay, Middleton is primarily known for its surf. A number of companies in Middleton offer surf lessons for kids, such as Kombi Surf or Surf & Sun Surf School. Why not try some when you are there?
Port Elliot
Seven years ago, this is where Peter and I got married. Our favourite place is, therefore, where we got married – Horseshoe Bay.
It has a large grassed area, playground and the restaurant/cafe where we held our wedding reception that is famous for its fish and chips. The beach is protected and calm, making it a great beach for young swimmers. The jetty is quite short and it is safe to go jetty jumping – as some of our wedding guests did after the ceremony.
Take a walk up the hill to the Soldier's Memorial and take the Maritime Heritage Trail to see where the seven ships wrecked in and near the Bay.
If you are looking for something to eat, try the Port Elliot Bakery. The lines are always out the door and around the block, but it is worth the brief wait. Check out their doughnut of the month.
Victor Harbour
Victor Harbour is one of the jewels in the Fleurieu Peninsula's crowns and there is so much for families to do there. Here are some suggestions, in no particular order:
Start the day with a great coffee from the Causeway Cafe. They also do good breakfasts
Go on a camel or horse ride along the beach. Miss M was a little too scared of the camels but was very happy to find that she and one of the ponies had the same name. We were even lucky enough to watch the ponies go for a swim. Check out the website to see when the ponies and camels will be there.
Let them loose on the playground on the foreshore. It has recently been updated, but you can still find the beloved locomotive. Miss M loved it but needed some assistance to reach the slides. (There is another playground more suitable for older kids after the Bowls Club)
Take the horse-drawn tram across to Granite Island. First in service in 1894, the horse-drawn tram was reinstated in 1986 for the state's 150th birthday and has been a family favourite since.
Go penguin sighting. Granite Island is home to a small colony of little penguins. To protect them, the Island is closed to the public after dusk. Access is via tour only – book at the Victor Harbour Visitor Information Centre.
This is one that my brother recommends: Visit the sea aquarium and go swimming with and feed the bluefin tuna (take the catamaran from Granite Island). Wetsuits, gloves, booties and masks are provided. While you are there, check out the other marine species, including the Port Jackson sharks, the "puppy dogs of the sea." Tickets cost $120 per person for the two-hour experience.
If it's Summer, visit the funfair at the end of the causeway. There are rides for small children and some that are more suitable for older kids.
In Winter, go whale watching. Victor Harbour was traditionally very popular with whales, who would come into the protected waters to give birth. As a result, there were whaling stations on Granite Island and at the Bluff until 1860. In the 1980s, whales slowly began returning to the bay. Start at the South Australian Whale Centre to learn more about these gentle giants. The staff will also be able to tell you where whales have been sighted on the day of your visit.
Take a walk up Rosetta Head, known locally as the Bluff. It's a steep walk, but the views are worth it. While you are there, visit the little beach just below the Bluff. We spent many Summer days on this beach – I liked to make cubbies in the rocks when I was little. Grab a bucket and go looking for little crabs in the rock pools too.
Make sure you know which other marine life are poisonous before searching in the rock pools. Check out our post on Dangerous Australians for more information.
Western Coast
We have never really spent a lot of time here as a family as we've always been more a south coast family (the south coast is closer to where we lived, too). Still, there are a lot of things to do in this area, as close friends would attest.
Sellick's Beach
Just south of Aldinga is Sellick's Beach, one of the last few beaches that you can drive a car onto. It does not need to be a 4WD either.
Pay close attention to the tides and your car so you don't get stranded. You can access the beach via the boat ramp.
While you are there, visit the giant Buddha at Nan Hai Pu Tuo Temple. The kids will love the statue and the views are stunning. You could be forgiven for thinking that you were somewhere in Thailand.
Myponga Reservoir
The Myponga Reservoir was constructed between 1958 and 1962, when the Myponga River was used to flood what was known as Lovely Valley. It has a capacity of just under 6,000 million gallons and provides about 5% of the water for Adelaide and the surrounding suburbs.
On the banks of the reservoir is a great easy loop walk track and lots of space to enjoy a picnic. The real highlight is the lookout over the scenic surrounds. Keep your eyes – and ears – open for the local wildlife.
Yankalilla, Carrickalinga and Normanville
Yankalilla has more to offer than just the Fleurieu Visitor Centre.
The long, beautiful beaches in this area are relatively calm and shallow, which makes them perfect for younger swimmers. Keep an eye out for curious dolphins!
Yankalilla also has a great playground and skate park. The playground part is great for little ones, while the skate park has both beginners and more adventurous areas. There's lots of grass for games and an outdoor gym for any adults, who are sick of running on the beach (though with all the beaches on offer…). Take some meat and a salad and have a meal with one of the barbeques provided. There's shelter, too, so it's good rain or shine.
While you're in Yankalilla, you might want to do the historical tour and learn a bit more about the area. It starts with the Yankalilla District Historical Museum, which is behind the visitor centre and continues around 8 different historical stops in the town, including the cute Christ Church. It's a nice walk or you can drive. There are lots of cafes on the trail, too, if you want to stop for a drink and something to eat.
If you are looking for somewhere to stay with small kids, try the Top Parks Beachside Holiday Park at Normanville. They have just opened a new jungle-themed water park with 8 slides – exclusive for guests.
Finally, head inland from Yankalilla to see the Ingalalla Falls. These are particularly good in Winter or when it has just rained. The falls are about 500 metres from the car park and its an easy walk for kids of all ages. You might even see some yabbies in the water! Take a packed lunch and stop for a picnic at the tables and benches provided.
Second Valley
Second Valley is an area of the coast that I have only been to once, but I know there are two things to do at this beach:
Go snorkelling in the crystal clear waters at the Second Valley reef, part of the Encounter Marine Park. Water depths are between one and six metres, making the area suitable for younger and more experienced snorkelers. Watch out for the leafy sea dragon, the South Australian marine emblem.
Explore the labyrinth of caves, coves and rock pools by kayak. Start at Second Valley Beach and paddle west around the rocks then follow the coast to discover the hidden grottos. Make sure you are familiar with the poisonous creatures you might find before you go poking around. You can hire kayaks and paddleboards from the Jetty Store at Second Valley Caravan Park.
Rapid Bay
Rapid Bay has long been one of my brother's favourite fishing spots.
This beautiful beach is nestled between towering cliffs and is a paradise for snorkelers and divers with shipwrecks and marine life. Take a stroll along the jetty and enjoy the fishing and snorkelling and the beautiful views.
You'll also find a boulder on which Colonel William Light carved his initials when he first stepped ashore. He later went on to plan the city of Adelaide. The bay was also named after the brig, the HMS Rapid, which brought him and his staff to South Australia.
Cape Jervis
Cape Jervis sits at the western tip of the Fleurieu Peninsula and is best known for its ferries to Kangaroo Island.
This tiny town (population approx. 300) has a unique shaped lighthouse (built on the site where the previous one stood). Go whale watching (May to November) or charter a boat to go fishing.
Check out the local markets, too. Held throughout the Fleurieu, there are various towns, including Cape Jervis, with regular markets. They sell locally grown fruit and vegetables, handmade jams and goods and, in the case of Cape Jervis, fresh seafood. The Cape Jervis market is held on the second Sunday of the month.
Deep Creek Conservation Park
If you didn't see the Myponga Reservoir, try the Deep Creek Conservation Park.
Deep Creek Conservation Park boasts 15 incredible hiking routes for different abilities. Some of them are even suitable for a trailrider (all-terrain wheelchair), which can be hired from the Fleurieu Coast Visitor Centre in Yankalilla.
Be prepared for breath-taking wildlife encounters, with western grey kangaroos, short-beaked echidnas and around 100 species of birds. The best times to visit the park (even go camping) are late Autumn and early Spring, when the native flora are in full bloom. As with much for the western Fleurieu Peninsula coast, the views and sunsets are stunning.
Visit the Fleurieu Peninsula with your family
A visit to the Fleurieu Peninsula is a quintessential part of any South Australian child's childhood. I know we spent most of our Summer holidays playing the waves, looking for penguins, building sandcastles, riding camels, hiking up the Bluff and pigging out at the bakery. Miss M has loved our trips to the Fleurieu, too.
Go for the great wine, interesting heritage, wonderful wildlife, pristine beaches and breath-taking views – and make many family memories while you visit.
When are you taking your kids to the Fleurieu Peninsula?